Leena, New Delhi
Indian, 38, female
When I was diagnosed with uterine fibroids, I wanted to find out everything I could about them. My symptoms were text book symptoms: heavy bleeding, a lot of pain, anemia. I was referred to a gynecologist, who recommended hysterectomy. Basically the story was," Well you've had your children. You don't need your uterus anymore". That just did not match my core belief about what my body was here for.
I asked about alternative treatment, but was told that this was the only one available.

I went on the internet to know more about treatment of fibroids. I found Dr. Pradeep Muley's (interventional radiologist) website:-  http://www.indianinterventionalradiology.in. I discovered that embolization was the right treatment for me.
I came in the morning... it was simple... as simple as it was explained to me. Within a week I was back at work. Within a couple of weeks I was running again. I love to run. When I think about friends who have had hysterectomies– whose lives were interrupted to weeks on end – and probably forever, their lives will be different. I'm just so happy about my decision
Through this article of mine, I would like to ask gynecologist that why better alternative treatments are not informed to the patients, even when they ask about them. If gynecologists are not performing this procedure, at least they can inform about it. Wouldn't they do it for themselves or for their close relatives?
---
Meenu, 44 female
Guwahati, Assam. India
I am writing this as an update after I had my three-month check-up with my doctor, Interventional Radiologist. My fibroid has decreased in size by more than a half and Dr Pradeep Muley said that it would continue to shrink.
Right after the procedure my periods were kind of irregular. I never knew when they would start or if they would start at all. Now I'm getting them every month and can tell almost to the day when they will start... I am really glad I found out about you and your website. It's such a relief to have an alternative to surgery.
---
Ms.Kathleen Rodgers, 42 Female
United States of America (USA)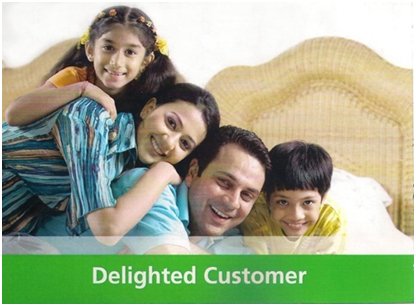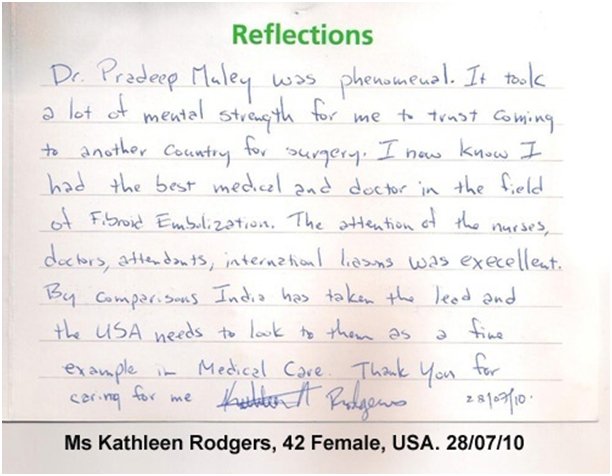 ---
Neeru, 40 female
Faridabad, India
Before embolization, my symptoms were excessive, heavy bleeding, blood clots, painful cramps, lower back aches. I was really fatigued and stressed and I felt real bloated and just miserable, basically. My doctor said that I had to have a myomectomy.
I did not want to have the myomectomy because I had a myomectomy 05 years prior to that and I already had a knowledge what the pain would be like. I found out about embolization from a friend of mine who had sent me an article from Times of India, English daily news paper, written by Dr.Pradeep Muley, an Interventional Radiologist. I found out that it wasn't going to be as invasive as a myomectomy.

Embolization has changed my life because I no longer have to worry about the excessive bleeding, or will I have stains on my clothes, I can walk around, and I no longer have this aching in my lower back. I just feel so free.
---
Ms M.Chawla, 38 female
Chandigarh, Panjab. India
I was shocked when I heard that I have fibroids. I had already undergone 2 previous ceasareans and now one more surgery!!  My gynecologist told it will be done by laparoscopic myomectomy and it is a minimally invasive surgery causing a small stitch on the skin. Well, I consented. But to my utter shock and disappointment, myomectomy could not be performed because of adhesions due to my previous ceasareans. I was sent back home with all my symptoms persisting and additional pain and emotional trauma.
Then someone suggested me that I explore for other possible treatments on internet. I came across the website of Dr Pradeep Muley the Interventional Radiologist, and the non surgical treatment of Uterine fibroids. The most surprising thing was that it was available in my own city of Delhi, not in some foreign country where the costs are exorbitant. I contacted the doctor and was really impressed by his approach and simplicity of information. I could understand the procedure well and agreed for the treatment. Within one week of my failed myomectomy, I was fully treated and was back home with all my symptoms almost cured. It still gives me a shudder when I think of my plight following laparoscopy. This procedure is any day better than any kind of surgery.
---
Devlina Burman 39 Female
New Delhi. India
I feel great!!! My doctor, Dr Pradeep Muley, Interventional Radiologist, had three non- surgical procedures scheduled on that day and I was the last...scheduled at 1pm. I couldn't believe it was over so quickly...when I asked if he was done with one side, the nurses said that he was almost done with everything. I haven't had any pain and am still wondering when it was all done. Everything went fine and I was in my room by 3pm.
On my way home from the hospital I stopped in with my Mother because I knew she would be worried about me. She could not believe how good I looked and how easily I was getting around without assistance. Within 40 hours of my procedure I was outside working in my garden!! Pretty amazing!!!

I feel so good that I have to keep reminding myself that I don't have to go to work tomorrow. I can't imagine how I would be feeling right now if I had a hysterectomy.
---
Seema, 44 female
Mumbai, India
I met Dr Pradeep Muley, Interventional Radiologist, on July 20, 2006 and we discussed my case. He was very thorough and I got a lot of information from him...even went over my MRI pictures with me. When I asked whether I would be entitled for the medical insurance, he told 'why not'. He said he would have his staff start working with my insurance company. My insurance was approved in a day and my embolization was scheduled the next day. Everything went off more smoothly and painless than I expected and the next day I was discharged.
Now after a week of the embolization, I wonder that I am free of all my symptoms that were so agonizing one week back and that too painlessly and without rendering me immobile even for a day.
---
Meera, 47 female
Uttar Pradesh, India
I went to Apollo hospital and later to Max hospital, New Delhi for the treatment of my fibroid. Seeing my weight 140 kg, severe anemia because of excessive bleeding since 8 months with clots and my multiple large fibroids similar to 5 month pregnancy, the gynecologist said it will be a high risk hysterectomy surgery and was quite reluctant to perform. She asked me to take opinion of Dr Pradeep Muley at Batra hospital, an Interventional Radiologist who specializes in non-surgical treatment of fibroids and various other diseases. It was a pleasant surprise to hear from him that my overall condition was not at all a risk for the non-surgical treatment. It could be performed the very next day with no risk of blood transfusion or delayed healing because of my overweight and anemia.
As no surgery was involved, I was not confined to bed and could walk from the very next day and on third day I was discharged as I don't want to go home on 2nd day. There was a time when I was ready to risk my life and here I was, feeling energetic as never before with complete stoppage of my bleeding, no pain and no bed confinement. It is like a new life to me. When people give me compliments on the happiness they see on my face, I feel happier, more energetic and more motivated to loos weight. I am a new person now. Thanks, Dr Muley.
---